"Behind Every Great Community is a great Library!" That's our 2021 Give Big CHQ theme one day online giving event that is happening on June 10th.
Ellington Farman Library responded to the pandemic with curbside pickup, contact-less deliveries and a porch full of books that we offered for free. Social media, our website and printed newsletters helped us stay connected to our patrons. It was a great time to revaluate exactly how our patrons used our library resources.
Who wants to be number 82 on a wait list for the latest Pulitzer prize winning book? Our library  designates a yearly amount to be given to the Chautauqua Cattaraugus Library System so they can purchase digital overdrive book and magazine titles that our patrons can download on their devices thru the Libby App. Our annual  donation has not increased in a number of years although the pandemic showed us we have more digital patrons than ever before! This year we would like to be able to have more purchasing power and provide digital patrons with more titles to choose from. Our digital    patrons are sometimes invisible in our library but they deserve to have books available to them just as much as the patron who walks in our doors. Your donation this year will alleviate some of the long hold times and  provide an extended selection of titles to our digital patrons.             
There are some item collections that are more expensive to purchase than others, Large Print and Books on CD ( Audio Books) are two of them. Their expense results in our library being unable to buy the latest novels because we wait for sales on older titles. There were patrons who were homebound during the pandemic who had already read every title we had available in our large print and Book -on- CD collection. We see the need for more items in these two collections but our budget can only stretch so far. Your contribution on June 10th provides updated titles to these patrons.
     No in-person Summer Reading Program during the pandemic? No problem as our library  provided over 80 complete Children's craft activity bags  last summer.  These bags provided  creativity and  intergenerational bonding as we saw the children working together with other family members in the Town Park across the street from the library. We provided all the supplies and instructions in each bag along with themed book suggestions. Families loved these "Take a Bag-Take a Book" activities so much that they  requested we provide them throughout this year. You can help families with creative and educational activities they can do together at home with your donation to our children's craft bag program.
     Ellington Farman Library is participating in the Give Big CHQ , an online fundraiser hosted by The Chautauqua  Region Community Foundation specifically to help nonprofits raise funds on June 10th. Our Give Big site link  is: 
  https://www.givebigchq.org/organizations/ellington-farman-library-association
Online financial donations are being accepted thru the site on one day only– Tomorrow-June 10th.  Little gifts make a big impact to small rural libraries such as ours. You have helped us in the past and you can be the hero once again by helping to provide activity bags, digital titles and large print books to our patrons. You can also assist us by spreading  the word and forwarding our site link. Please consider sharing our Give Big CHQ Facebook posts to your social media pages. We  appreciate every donation and every effort you make to help us better deliver items to our patrons and the surrounding community.
https://www.facebook.com/Ellington-Farman-Library-798032366989209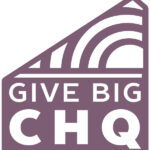 Behind Every Great Community