Accurate & Accessible; Ellington Farman Library's  GiveBigCHQ 2020 fundraising campaign theme is to raise money to fund a Health Reference Item collection that will supply general health knowledge and be accessible to all. A library's first duty is to provide free access to information. We should also ensure the information we offer is accurate, especially when it comes to health related issues. The recent pandemic made us pause and gave us time to access our library and the information we offer to our community. We took a good hard look at our small rural library's current Health reference section and we found it lacking. We currently have a total of 32 Health related books not including the Fad Diets themes. We offer to our patrons a 1997 copyright of "The Merck Manual of Medical Information". How about the 1995 edition of "The Lupus Book: A guide for patients and their families". We are confident there has been a lot of new health information discovered in the last 25 years. The need is never timelier and more relevant.   When this pandemic is over, we know there will be many of our patrons returning to the library with questions. Our rural community includes many people that have no access to reliable internet, cell phone coverage nor do they own digital devices. They depend on the library to provide them with books and DVD's that not only entertain them but give them answers. This current health crisis will bring many questions to the forefront of everyone's life.
We realize that a patron's health care provider is their best source for information about specific health concerns and we do not plan to offer medical advice. We are simply stating the need for books and DVD's covering basic health information on topics relevant to our daily lives. Our library would like to purchase a set of Health reference books along with associated DVD's as we are aware that not everyone receives their information by reading. The books we plan to buy with the money raised will be chosen for their accuracy and ones that can be easily understood by the average reader. The DVD's will be purchased with advice from reputable science and health organizations. A sampling of the topics we plan to include will be: Men's and Women's Health Concerns, Health Information for all Stages and Ages of Life, Diseases of the Mind & Body, Basic Anatomy & Physiology, Mental Health Disorders,  Human Sexuality & Basic Medical Dictionary of Health Terms.
Ellington Farman Library is participating in the GiveBig CHQ which is an online fundraiser hosted by The Chautauqua Region Community Foundation specifically to help nonprofits raise funds. Our campaign is Accurate & Accessible; we're raising money to fund a Health Reference Item Collection  Our website, https://www.givebigchq.org/organizations/ellington-farman-library-association   can be viewed now and online financial donations are being accepted thru the site from June 1 – June 11th. We know that giving financially at this time is not feasible for all. If you are not able to but would still like to help our library you can forward our link and share our Facebook page posts to your social media sites as well. You would be providing a great help to us by spreading the word.
A library's first duty is to provide free access to information. Your donation to Ellington Farman Library, through the GiveBig CHQ Fundraiser in June, will make accessible the knowledge our library patrons need to understand a variety of health and lifestyle issues. You will be helping our rural community be better prepared for whatever public or private health crisis might come in the future.
https://www.facebook.com/Ellington-Farman-Library-798032366989209/timeline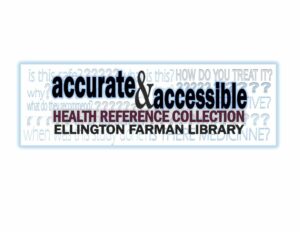 We strive to provide Accurate & Accessible Heath Information