From Alaska to Ellington! Iditarod Musher is coming to the library. We're excited to announce that three time Iditarod Musher and National Speaker, Karen Land, will be at our library on Saturday March 21st with a program from 1-2:30pm!  The following is a letter she sent  which I'm printing in it's entirety…
Those following the 1,049-mile Iditarod Trail Sled Dog Race from afar—via the Internet, television, radio, or newspaper—see a long string of dogs, a sled, a musher. They witness a unit, a team, winding its way down a mountainous trail, progressing across the vast Alaskan tundra, hugging the shoreline of the great Bering Sea. The expansive line of dogs and their human blend together into one even, gray silhouette, a smooth shadow where every member moves in harmony, carries on together, becomes one.
The scene is more complex from the musher's viewpoint. When I study my team stretched out before me, I recognize sixteen individuals, each with unique personalities, aversions and desires, fears and dreams. We all have our good days and bad days. But one thing remains constant: we are bound together.
The sport of dog mushing is a dance across some of the most remote wilderness on Earth. Completing the Iditarod is among the most difficult feats in all of sports. More people have reached the summit of Mount Everest than have made it to the Iditarod finish line behind a team of dogs.
I am a writer, professional public speaker, and three-time participant in the Iditarod as well as many other endurance dog sled races in Montana, Maine, Idaho, Wyoming, Canada, and Alaska. Over the last nineteen years, I've given over a thousand dog-mushing presentations at schools, public libraries, museums, women's expos, and sport shows across the country.
A little backstory—I am 47 years old. I grew up in Indianapolis, Indiana. After a few years of college at the Herron School of Art in Indy, I packed up my Catahoula leopard dog, Kirby, and moved to the mountains of Montana—a dream come true. I began my studies at the University of Montana in the Wilderness and Civilization Program, eventually obtaining a BFA with a minor in Wilderness Studies. I went on to do one semester of graduate level work in non-fiction writing at the Salt Center for Documentary Field Studies in Portland, Maine. This is where I fell in love with the sport of mushing! For my main project, a photographer and I followed a dog musher around for several months as he trained and made preparations to run his first Iditarod qualifier, the Can Am Crown 250 Sled Dog Race in Fort Kent, Maine. After all of that time spent up close and personal with dozens of extraordinary sled dogs, I couldn't imagine myself doing anything else. By the end of the semester, I knew mushing was next for me. Kirby and I left Maine and headed NORTH TO ALASKA.
Eventually, we moved back to Montana, and I got a job working for Dr. Terry Adkins, DVM, a veteran Iditarod dog musher and trail veterinarian. After running his dogs for almost four years (2002, 2003 2004 Iditarod races), I started my own kennel and race team.
For 10 years I was a newspaper columnist for the Great Falls Tribune in Montana, writing about my experiences in the outdoors and raising and training sled dogs. I have contributed columns, essays, and features to other newspapers, magazines, websites, and anthologies. For years, teachers used my weekly columns in the classroom to supplement the Iditarod curriculum already utilized by schools across the globe.
            Everything in mushing is totally about the dogs. Patience, adaptability, compassion, courage, honesty, initiative, loyalty, optimism, perseverance, trust, and respect—these traits allow a musher and her team to keep moving forward. I have been fortunate to spend my life with a string of dogs I adore. Giving talks in school and libraries allows me to share my passion with wonderful, enthusiastic people. Thank you for having us!
            MUSH!
            Karen… and Noggin (the Alaskan husky)… and Chloe (the Sporgi—a corgi/springer spaniel mix)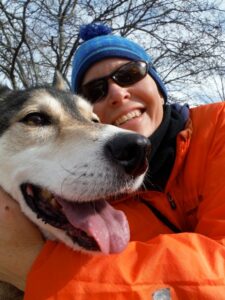 https://stringofdogs.com/author/mymusher/
https://www.facebook.com/events/195008685035726/
From Alaska to Ellington: Sled Dog Program