The following are groups that are being allowed to meet at the library with a limit on participants.  These are not open programs the library is running but groups that have previously met here and may be allowed to continue their meetings as long as they follow the library safety guidelines. There are a few openings available and you may call the library at 287-2945 to reserve a spot if you would like to join. Mask wearing and social distancing will be in practice. No food or beverages will be served.
YOGA: 1 OPEN SLOT. 2 sessions a week: meeting  Tues & Wed nights: 6-7 pm Bring your own mat. This group  uses DVD's
CLASSIC MOVIE GROUP: 5 OPEN SPOTS; Meets weekly every Thurs at 1pm starting Oct. 1. This group chooses and brings their own movie.
QUILTING/CRAFTING GROUP: 3 OPEN SPOTS ; Meets first & third Mondays of the month,  11am
ADULT BOOK CLUB: GROUP IS FULL meets monthly, third Thursday at 11am. You may call and be placed on a waiting list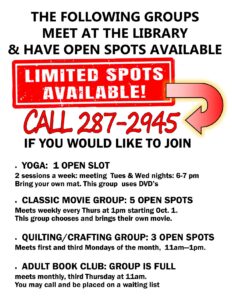 Groups Meeting at the Library