Forget the Donkeys and the elephants, it's Turkey time! Once again the Ellington Farman library will be hosting the Election Night Fundraiser dinner and it"s a full turkey dinner with all the fixins'. Starts at 4:30pm – till 7 or until we run out. Take outs available. $9.00 adults, $4.50 aged 5- 12, under 5 free. Tuesday November 5th, come right after you vote. Check our Facebook page for this and all other happenings at the library.
https://www.facebook.com/Ellington-Farman-Library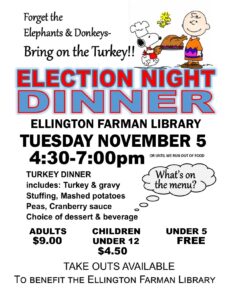 It's almost Election Night Dinner Time!