Ellington Farman Library will be participating in National Take Your Child to the Library on February 6th from 10am – 1pm. There will be Take & Make Craft bags, activity & coloring sheets for each child. You can play ABC Mouse on our patron computers. Stop in the Children's Room and don't forget to pick up a copy of Farman Bear News. Take this time to visit the library with your child and it will help them feel comfortable in a library environment. Masks and social distancing are in practice. 
Libraries allow children to ask questions about the world and find the answers.  And the wonderful thing is that once a child learns to use a library, the doors to learning are always open. —Laura Bush
https://www.facebook.com/Ellington-Farman-Library-798032366989209/events/?view_public_for=798032366989209&ref=page_internal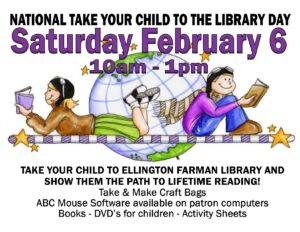 National Take Your Child to the Library Day!