When:
September 23, 2023 @ 11:00 am – 1:00 pm
2023-09-23T11:00:00-04:00
2023-09-23T13:00:00-04:00
Where:
Ellington Farman Library
760 Thornton Road PO Box 26
Contact:
Judith Whittaker
7162872945
Thanks to volunteer Sue Livermore, we are able to offer a class in basic knitting. The library will provide all the  supplies and Sue will give instruction to about 6-8 participants. This class would be appropriate for ages 11 and up. You must be registered to attend by September 14th to give us time to collect supplies. Call 716-287-2945 to register. Sue has offered to lead a monthly class if participants want to get together on a regular basis. They will be able to decide that at the first class. We'd love to make room for a Knitting Class on our regular monthly calendar! We also would appreciate any donations of number 6,7 or 8 knitting needles and cotton yarn The first class will be teaching how to make a scrubbing dishrag.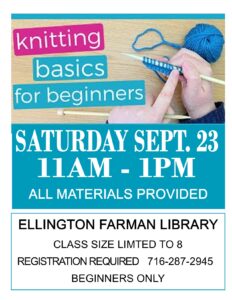 Introductory Kitting Class