When:
October 24, 2023 @ 7:00 pm – 8:00 pm
2023-10-24T19:00:00-04:00
2023-10-24T20:00:00-04:00
Where:
Ellington Farman Library
760 Thornton Road PO Box 26
Contact:
Judith Whittaker
7162872945
Program presented by speaker Roger Gilbert:  He will briefly trace witch persecutions from the earliest of times, through the witch hunts that still happen today. The history will include biblical times, Europe in the 1500 and 1600's, US colonial history and finally modern day. You will hear the incredible true story of Roger's  relative, Lydia Elizabeth Gilbert, wife of Thomas Gilbert, who was accused of being a witch in 1654. Elizabeth and Thomas came to the colonies from England on a ship in 1630 with their three children. They moved from Massachusetts Bay Colony to Windsor, Connecticut where the lives of her family took a dramatic turn. This historical program is designed for adults There is no glorifying the practice of Satanism or Wicca  in this program rather it is an interesting and accurate portrayal of known people within certain periods of history.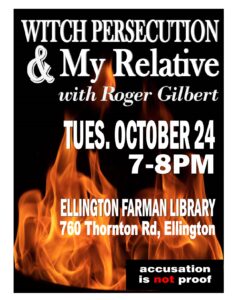 Witch Persecution & My Relative